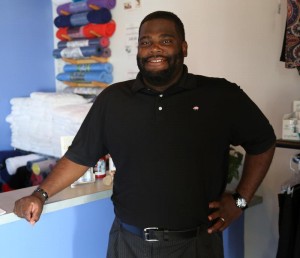 Darrell Cobbins

This rockstar yogi recently completed his second 30-day challenge!
How long have you been practicing?
18 months. My first class was on Feb 1, 2012.
What changes have you seen as a result of the yoga?
I've lost about 35 lbs. My blood pressure and cholesterol are much improved. I am much more flexible than I was when I started. Also, I could not sleep through the night prior to starting Bikram; now, I can sleep well. My tension/stress level has decreased dramatically.
Favorite and least favorite postures and why?
Selfishly, my favorite posture is "Savasana" because when we reach the first savasana after the standing series, in my mind, it's halftime. I am a former football player, so I see this as the opportunity to regroup, refocus, and recharge for the second half.
My least favorite posture is "Standing Head to Knee" (Dandayamana-Janushirasana). It is one that I have yet to conquer because of a lower back injury from weightlifting, but I am still working on it.
Biggest breakthrough in class?
My biggest breakthrough in class has been in doing "Fixed Firm" pose (Supta-Vajrasana). Most wouldn't expect a big football guy to be flexible enough to do this posture, but with coming in regularly (on average 3 times/week) I've improved my flexibility and can now do this pose without any strain or pain to my knees, ankles, or back. That is an accomplishment from when I first began practicing.
Advice to new students?
Make Bikram Yoga a part of your weekly fitness routine. Find ways to get better in and outside of class. I watch some YouTube videos and subscribe to a yoga blog. Don't ever give up on yourself. Be in constant pursuit of getting better. It takes time for us all to move from where we may be today to where we ultimately want to be one day. Hydrate.
---
Jane Ridsdel Cox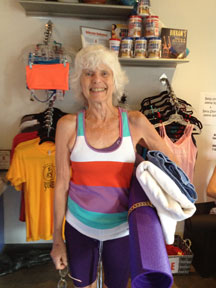 My name is Jane Ridsdel Cox. I will be 75 in Febuary of 2013. I am a runner and am training for my second full Marathon, the St. Jude's on December 1, 2012. I started Bikram Yoga six weeks ago. I knew I would love it and I did. Actually, I have trouble staying away and have done it four or five times a week since I started. I already know the instructors and am finding them very helpful and supportive. The class is hard. Some of the poses are impossible for me but I am improving every single time and can do some things I thought would be impossible. l love the challenge and feeling of my body being increasingly under my control. At my age, many things are deteriorating and it is lovely to have parts of my body that is improving. Bikram Yoga claims to help fix whatever ails you. I have already noticed a huge change in my sleep – something I have been trying to improve for 30 years. My achilles tendonitis that has bothered my since last December has almost disappeared. I am much for relaxed and am feeling in better control of a tendency to over eat. I ran a five mile race this morning and had one of my best times for this distance. More importantly, at the finish line I was barely tired, my legs felt stronger. I was more relaxed during the race and enjoyed the whole thing instead of focusing on going as fast as I could. I am hoping to see improvement in several areas. Bikram Yoga may help with my hypothyroidism, my rheumatoid arthritis, my very impaired balance, difficulty with concentration and my lack of flexibility. Big order! That said, there are poses that I can do and give me reason to be proud of my aging body. Bikram Yoga has a way of improving a person's self esteem and self-confidence. At the end of the day, I am doing Bikram Yoga because I fell in love with it. It does not matter how slowly you go so long as you do not stop. Jane C
I FEEL AMAZING, CHANGED MY LIFE: I was more then a little skeptical whena friend of mine in Chicago suggested I try Bikram Yoga as a method of getting back in shape. My impression of Yoga was not something that was meant for serious exercise. His suggestion came about due to the fact that the last time he had seen me I was about 40 lbs lighter and running marathons. Due to a number of health issues I had given up exercise altogether. My first class was a rude awakening. I thought you were kidding when you said my goal was just to stay in the room! Well, it's been 5 months now and I just had a physical. Since I've been coming to Bikram Yoga Memphis I have lost 25 lbs, my resting heart rate has gone from 72 to 52, my blood pressure has dropped significantly and yes, I can stay in the room. I still cannot do all of the postures perfectly, however, trying is apparently paying off. I just wanted to tell you how much I've appreciated your studio and your group of dedicated instructors. I do not believe I have met a group of fitness professionals that are more passionate and compassionate about their teachings. Thank you! Mike I.
THANK YOU BIKRAM YOGA! I was asked to comment on postive ways that Bikram Yoga has changed my life. I wanted to credit this yoga for the incredible home birth of my son who was born Dec. 8, 2009. I practiced Bikram Yoga 3 times a week while I was pregnant. It was an amazing experience for both of us. My son is extremely healthy and at 2 yrs and 8 months, has not really been sick his entire life. I have just started back to yoga regularyly and after 6 classes in 2 weeks I feel sooooooo different!!! Although my life is so busy as a single mom, I know that I need to continue to fit it in because it helps me in every way! Sincerely, Jennifer P

HEALED KNEE & A NEW ME: "I have been coming to Bikram yoga off and on for 15 years. As an avid yogi, I always enjoyed variety in my practice: hatha yoga, power yoga, vinyasa yoga, etc. Bikram was another medium in my yoga practice that I truly enjoyed, but would not discover its true value until many years after I began my practice. The real value of Bikram, and what was truly the hook that keeps me craving the practice, was when I blew my knee out 4 years ago. After a freak misstep, I tore some cartilage in the anterior part of my knee and found that not only could I NOT exercise, but I had to use crutches to get around. I had become quite depressed during the first few weeks after this incident because I had spent that entire summer and fall getting in some of the best shape of my life (running, P90X). And now the gloom of winter was approaching and I had no outlet for exercise. Or at least that's what I allowed myself to believe. Having been out of the yoga scene most of the year to focus on getting a 'beach body' I decided to consult the local Bikram studio owner about my situation. I was desperate to sweat, and I thought for sure she'd tell me to steer clear of yoga too, but she said it would be the perfect healing outlet for my situation. She promised me that if I came everyday for 60 days I would be running again by spring. Well, she lied. I was running again in 6 weeks in the middle of winter. I showed up everyday (or minimum of 5 days a week) for 60 days and I transformed every facet of my being, inside and out. Another interesting thing happened also as huge bonus: I experienced almost NO seasonal depression whatsoever during my winter practice. The usual hopelessness and sadness that comes in the winter months disappeared. Typically I've had to consume copious amounts of wine to survive the winter months, until after my first couple of weeks of Bikram I was able to eliminate alcohol with the greatest of ease. Over the years, Bikram has sharpened my focus, alleviated years of chronic depression, and made me a better athlete than I've ever been... I'm almost 40." Kevin
HIGH BLOOD PRESSURE, CHOLESTEROL, BACK PAIN: Bikram yoga has changed my life. I am a 41 year old man and have always considered myself to be a healthy, active man. In the fall of 2007 I had a routine physical exam that revealed I had high blood pressure and high cholesterol. I had also gained weight. My physician recommended that I lose 10 pounds and return for a follow up visit in six months. Considering a family history of heart disease and cancer, he was very concerned. We discussed medications I may need if I did not take this seriously. He did state though that even losing a few pounds may help me a great deal. My wife was also worried about me and suggested that I try a Bikram yoga class. Yoga for a guy, "no way" I thought.

After some gentle nudging from my wife, I started taking Bikram yoga classes in November of 2007. What I found immediately was that this 90 minute Bikram Yoga class was extremely challenging, and I considered this the hardest workout I had ever done. I also found dedicated instructors and fellow students and friends who supported me and provided needed encouragement during this life changing transition. I have committed myself to practicing Bikram Yoga at least three times per week and have been sticking with it for over a year and a half. I have found the challenge to be a bit addictive. Yes, it is a hard workout, but it is also a 90 minute break from everything else. Putting this time aside for myself actually allows me to give more of myself to others in my life now. You can do more when you feel great. I feel great.

Prior to Bikram Yoga I was also experiencing lower back pain, upper back pain, and loss of flexibility. My spine was hunched over. I could not touch my toes without bending my knees. My back hurt if I tried to bend down, and especially hurt after doing regular household chores such as raking leaves or mowing the lawn. It even hurt during my sleep – and kept me awake many nights. I had inflammation of the temporomandibular joint which was probably related to all of these stresses I was feeling. I also have a long history of environmental allergies.

Currently I am in very good physical and mental condition. I have gained incredible physical strength and ability, and my core is stronger. My physical appearance and muscular definition have improved. BP is normal and cholesterol is down 40 points with no meds, regardless of family history. I have lost and am maintaining 40 pounds of weight loss without starving or neglecting myself. I can keep up with my children. I am much more flexible and rarely experience back pain. My spine is much straighter and I notice improvements and more movement in this area all of the time. Temporomandibular joint issues are gone. My allergies have even improved.

Most important - I am happy. I feel like I can do anything again. I intend to still be skiing at 80. Hope to see you there. The choice is yours!"